Our First Look at the 2024 GMC Sierra EV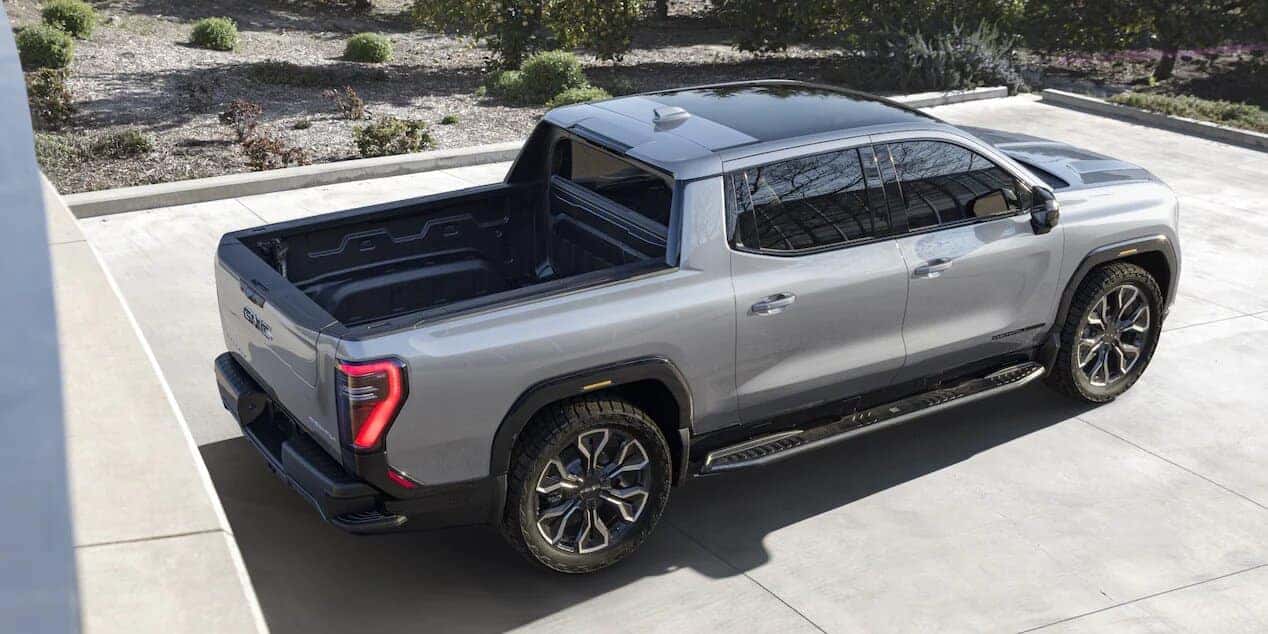 There's nothing wrong with admitting the Hummer EV is an emphatic powerhouse. The all-electric pickup or SUV harbors 1000 ponies, and the iconic nameplate alone is enough to resurrect the nostalgia of war machines and the Terminator. Yet, here's where the 2024 GMC Sierra comes into play. Even though the Sierra's considered a full-size pickup is not as intense as its Hummer sibling. Furthermore, the Sierra EV belongs to the folks that want a traditional truck with a guiltless powertrain. 
The First Electric GMC Sierra and Denali Ever
The Denali Edition 1 will serve as the first electric Sierra. In addition, the Edition 1 reveals a fully loaded model emulating its Hummer EV brethren. The Sierra Edition 1 indicates that it's the first electric Denali, and its price tag reads $108,695. The future electric pickup will only be available as a crew cab with all-wheel drive. The electric Denali will also derive power from its electric motors for a combined total of 754 horsepower and 785 lb-ft of torque. However, enthusiasts must place the pickup in Max Power mode to unlock the majestic Denali's potential. Furthermore, in Max Power mode, the pickup will jolt from 0-60 mph in less than five seconds. 
For those who are a little tardy to the party, the electric Sierra is a sizable spin-off to the Hummer EV, much like the Chevy Silverado EV. All three-pickups cruise along on GM's Ultium battery and house similar components and content. Although the automotive General hasn't disclosed how big the Sierra EV battery is, it would be no surprise if the EV houses a 200-kWh battery pack like the Hummer and Silverado. 
Eventually, future models of the Sierra EV will become available to those seeking different ranges and towing capacities. But for now, the Sierra Denali Edition 1 features trailering equipment with a towing capacity of 9500 lbs. In addition, GM's Super Cruise hands-free driving system will function while towing, revealing 400,000 miles of operable Super Cruise roads between the US and Canada. Furthermore, the Denali Edition 1 will easily tug away 1300 lbs of payload in its cargo bed. 
General Motors plans to debut the regular Sierra EV Denali sometime after the Edition 1 becomes available in early 2024. Unfortunately, we have no idea where pricing will start for the "regular" Denali EV. However, we know that the automaker will reveal an off-road AT4 variation and Elevation trim of the EV that will start somewhere between $52,000. So don't expect to see those spin-offs of the Sierra EV until the 2025 model. Reservations for the 2024 Sierra EV Denali Edition 1 are currently open. 
Test-Drive Your 2022 GMC Sierra 1500 at Southern Buick Greenbrier 
A beautiful 2022 GMC Sierra 1500 is collecting dust just for you at Southern Buick GMC Greenbrier. If a commanding pickup is not your thing, then don't fret. We offer a full selection of new vehicles or pre-owned options. Additionally, our passionate finance team will get you settled into a finance or lease plan that works for you and not the other way around. However, if you are not ready for a seamless transition, we have the best professional technicians within our Buick GMC service department. Southern Buick GMC Greenbrier offers premium vehicles and services at your fingertips, with thousands of customers served in the Chesapeake area. We look forward to hearing from you and exceeding your expectations. 
Photo Source/Copyright: GMC