Looking for the 'Ultimate' Look No Further Than the 2023 GMC Yukon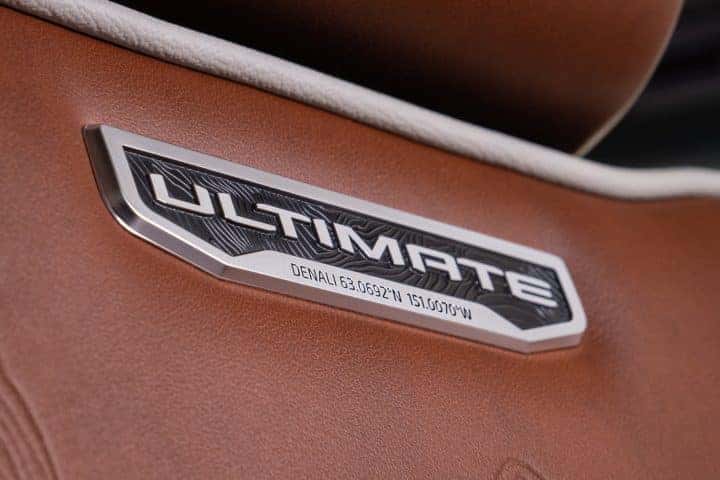 To all the full-size SUV enthusiasts who enjoy a luxurious appeal and are sick of limiting themselves to the Cadillac Escalade, the 2023 GMC Yukon Denali Ultimate is finally here. 
The GMC Yukon Denali Ultimate is the full-size SUV's new premium trim, and it carries several lavishly astounding qualities.    
The Yukon Denali Ultimate is ultimately (see what we did there) a fully-loaded Yukon Denali with full-grain leather upholstery, authentic Paldao wood, aluminum accents, and dark chrome exterior trim. Additionally, the Denali Ultimate is etched with topographical maps of the Alaskan Denali state park. 
The premium Yukon Denali trim sits atop 22-inch wheels and rolls around on the standard four-wheel drive (4WD). The Yukon Denali Ultimate also features a computer-managed magnetic ride control suspension system, seats to massage that long day away, and an 18-speaker Bose audio system for all the enthusiasts who enjoy the submergence of their True Crimes' Podcasts. 
Additionally, Yukon Denali Ultimate enthusiasts have the option to attain the latest variation of General Motors' Super Cruise hands-free driving system. The Super Cruise hands-free driving system holds the functionality of operating with a trailer. 
The hands-free driving system can also pass slower cars on the highway without any input from the driver.  Furthermore, the hands-free driving system utilizes a gang of sensors and inherent 3D maps. The sensors and 3D maps allow drivers to remove their hands and feet from the controls for more than 200,000 miles of certified highways. However, the hands-free driving system doesn't operate so that drivers can text freely. The system only works as long as the driver keeps their eyes on the road.   
GMC enthusiasts can enjoy the 2023 GMC Yukon Denali Ultimate with two different engine options: the 6.2-liter V8 that renders 420 hp or the 3.0-liter six-cylinder diesel engine that produces 277 horsepower. 
Pricing for the Yukon Denali Ultimate has yet to receive official word. However, pricing may stray a little above $80,000.  
Your GMC Yukon is Here at Southern Buick GMC Greenbrier 
We want to take you back to when you purchased your first vehicle. Now we know that the memory of your first purchase isn't too far behind for most, while for others, this memory has yet to breathe reality. Whichever way the circumstance blows, Southern Buick GMC Greenbrier wants to ensure your next long-term experience exudes extravagance just like you. 
At Southern Buick GMC Greenbrier, we have a surplus of new and brilliantly pre-owned vehicles to make selecting your home away from home your only difficulty. 
Most importantly, the Greenbrier sales team wants to take you back to the day when you purchased your first vehicle and provide an experience that exceeds those expectations. 
Usually, people assume that competitive rates and luxury can't exist in the same sentence, but our finance team can affirm otherwise. Spend some time with our free and easy-to-use finance center, and you'll be sure to impress yourself.  
However, if you aren't ready to forgo that beautiful ride, don't stress yourself out. Our service technicians are here for your next service or auto repair. 
Luxury and unbeatable pricing lives here at Southern Buick GMC Greenbrier. So don't be afraid to learn more about your GMC Yukon, financial standing, or routine maintenance with your new favorite dealership.