2025 Buick Electra EV Spotted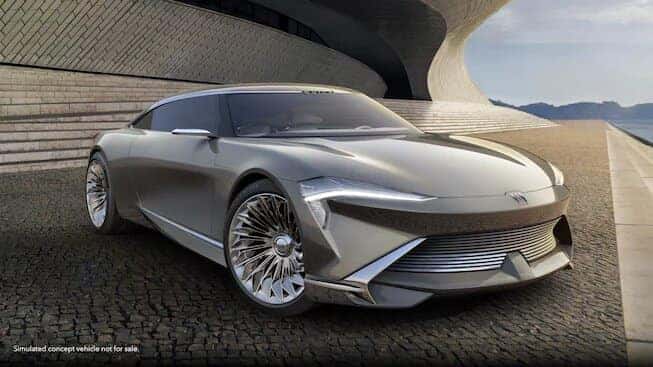 Recently, we announced GM's plans for electric mobility, so it comes as no shock that the transition to all-electric powertrains also found its way to Buick. Now there are recent spy photos to confirm how serious General Motors feels about sustainability. The forthcoming 2025 Buick Electra EV was spotted roaming streets. Further, the future all-electric SUV conducted its testing in disguise. 
Thick vinyl wraps obscure the prospective Buick Electra in black and white camouflage. Additionally, the all-electric SUV is a prototype, and the crossover parallels the design cues of its ICE-engined siblings. For example, the Buick Electra sports slim daytime running lights with signatures along the upper corners of the fascia. Then the future EV supports an assertive middle fascia layout and thin taillights that Buick enthusiasts already know and love. 
Humorous enough, the Buick concept mirrors the American automaker's other electric crossover that fans witnessed traversing through China last month in September (2022). Additionally, enthusiasts noticed that the Electra's wheel design was identical, and so were the styling elements peaking out beyond the front fascia camo. Some other resemblances to China's future EV include two-tone side-view mirrors and black roof rails. 
In addition to the sustainability shift, we also reported that the automotive General trademarked Electra 1 through 9 (Ex: Electra 1, Electra 2, Electra 3, etc.). USPTO, or United States Patent and Trademark Office, obtained the patent filings with the impression that each name depicted a new EV model. In October 2022, General Motors went on a filing spree as the American automaker went on to trademark the Electra GS name. Many have suspected that the Buick Electra GS may act as a dapper, sharper all-electric model. Allusive of Buick's old Gran Sport models, such as the Skylark GS or Buick Riviera GS. 
Buick revealed a new logo and brand identity, which explains why this Summer (2022) was the hottest. Additionally, the Enclave maker premiered an all-electric concept vehicle called the Wildcat EV. The Wildcat will act as motivation for prospective models. Since we're talking about the future, the American automaker intends to transition to all-electric powertrains by 2030.
Test-Drive Your 2022 Buick Envision at Southern Buick Greenbrier 
A beautiful 2022 Buick Envision is collecting dust just for you at Southern Buick GMC Greenbrier. If a commanding pickup is not your thing, then don't fret. We offer a full selection of new vehicles or pre-owned options. Additionally, our passionate finance team will get you settled into a finance or lease plan that works for you and not the other way around. However, if you are still getting ready for a seamless transition, we have the best professional technicians within our Buick GMC service department. Southern Buick GMC Greenbrier offers premium vehicles and services at your fingertips, with thousands of customers served in the Chesapeake area. We look forward to hearing from you and exceeding your expectations. 
Photo Source/Copyright: Buick