Buick Goes Legally Blonde with Reese Witherspoon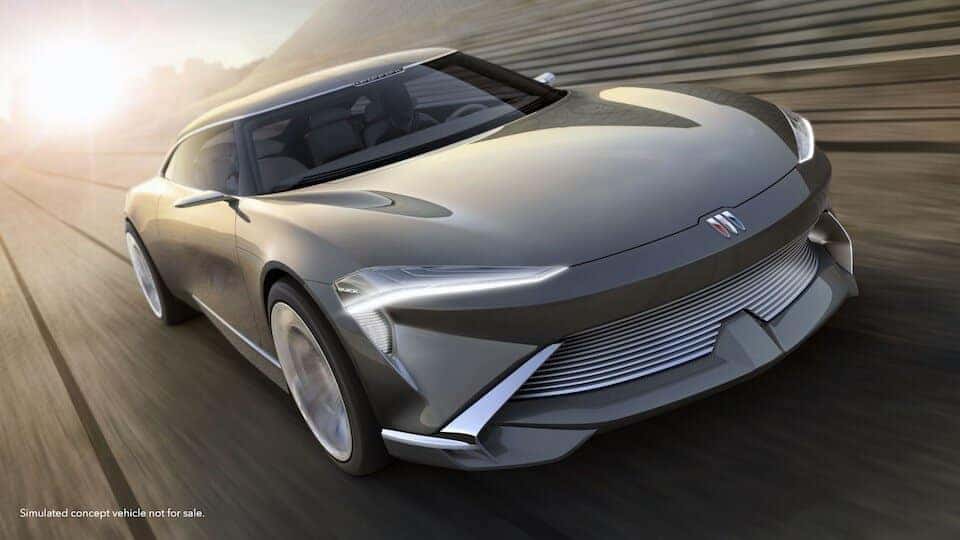 Oscar award-winning actress Reese Witherspoon recently introduced the world to the largest mobile mood ring. In a new 90-second ad campaign for General Motors, the Sweet Home Alabama actress promoted the Buick Wildcat Concept EV. 
The ad showcases the electric concept in various scenarios. For instance, it starts with a sophisticated woman in the driver's seat. Still, the vehicle valet parks itself, then the vehicle self-drives in "zen-mode," exuding a tranquil woodland setting on the windshield for a moment of relaxation. Furthermore, the car appears to be a giant mood ring as it changes its exterior to whatever enthusiasts select. 
Before the commercial closes, Witherspoon states, "At Buick we see a future that's even better because it's built around you. Come dream with us." 
Buick and Hello Sunshine have had a collaboration brewing in the works for some time now. As a matter of fact, Hello Sunshine is Witherspoon's media company, and its mission is to put women at the center of every story it tells, as it did beautifully with the Wildcat Concept. Furthermore, Buick offers Reese's Book Club as an in-vehicle app for specific models. 
"With the largest percentage share of female buyers in the auto industry, we know that more and more women are making vehicle-buying decisions and we're thinking creatively about how to offer experiences tailored to them."

 -Molly Peck, Buick GMC Vice President of Marketing

 "Those are the automakers where women contribute to the majority of their known-gender sales. They have a product that appeals to women and they market directly to all women."

-Marc Bland, Chief Diversity Offficer for IHS Markit, now S&P Global 
GM debuted the Wildcat EV concept in June (2022), promising to go fully electric by 2030. In addition, GM invested $35 billion in EV and self-driving technologies for 2025. Moreover, the automaker will provide an all-zero-emissions lineup by 2035, with a carbon-neutral goal of 2040. 
The magnificent transitions don't stop at sustainability for the automaker, as the Wildcat Concept bears Buick's new logo. However, the automaker's gasoline-powered vehicles will also wear the new emblem and bring new products to market within 18 months. 
The Buick Wildcat concept is a critical piece of what to expect from future designs from the automaker for the next several years, whether gas or electric vehicles. 
"What this whole concept car does, is gives us a visual representation of how the brand is actually shifting as we evolve into electric vehicles. There's no better marketing than having a beautiful car out on the road. This concept is a start." 
-Rob Peterson Buick Marketing Manager 
The first EV to cause pandemonium to Buick enthusiasts will be a 2024 SUV. From then on, all future Buick EVs will be known as Electra's, followed by a number. Buick recently resurrected the Electra name, which was last used in 1990. 
"We've worked closely over the past year on exciting new collaborations, including the launch of the RBC app in Buick vehicles, which was a huge success. We can't wait to create more moments that empower and celebrate women together through our work."

 -Zoe Fairburn, Hello Sunshine's Head of Brand Partnerships 
Test-Drive Your 2023 Buick Avenir at Southern Buick Greenbrier 
A beautiful 2023 Buick Enclave Avenir is sitting here collecting dust just for you at Southern Buick GMC Greenbrier. If a commanding pickup is not your thing, then don't fret. We offer a full selection of new vehicles or pre-owned options. Additionally, our passionate finance team will get you settled into a finance or lease plan that works for you and not the other way around. However, if you are not ready for a seamless transition, we have the best professional technicians within our Buick GMC service department. Southern Buick GMC Greenbrier offers premium vehicles and services at your fingertips, with thousands of customers served in the Chesapeake area. We look forward to hearing from you and exceeding your expectations. 
Photo Source/Copyright: Buick
Posted In: Buick