Back and Stronger Than Ever the All-New Hummer EV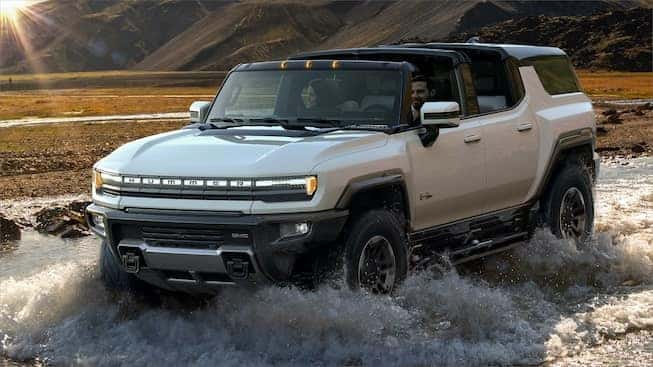 Talk about resurrection; the new Hummer EV is just that. The Hummer EV has been twelve years in the making, and GMC unveiled the truck in October of 2020. The specs on the EV make the competition turn to dust with a sticker price to match. But let's take a quick look at what makes this truck a must-have in your garage. 
The Hummer EV will be released in three trims, including the Special Edition 1 trim, which sold out 10 minutes after listing. Edition 1 has a range of 350 miles, 1000 HP, and a torque of 11,500 LB-ft. Next is the EV2 trim, which will produce 625 horsepower and 7400 LB-ft torque. The EV 2X will allude to the same features, setup, and power outputs, but a bigger battery and better range. As the EV2 is set for a range of 250 miles, the EV 2X will stretch to 300 miles. Lastly, the EV 3X features a tri-motor setup giving the vehicle 800 HP, 9,500 LB-ft of torque combined. 
Front and rear suspensions will be independent and offered as a standard. The super truck will also provide an air adaptive suspension system that adjusts to any driving condition. In addition, terrain mode will be available, raising the height by two inches. 
Crabwalk is also a feature that is more enticing than the traditional rear-wheel steering. The Crabwalk enables front and rear wheels to angle 10 degrees to the left or right so that the vehicle can move diagonally. 
Another enchanting feature is the Watts to Freedom (WTF) which takes the 9,000-pound beast and turns it into a track star with a sprint of 60 mph from rest in less than four seconds. This launch mode offers such a thrill and excitement WTF is the perfect name for it. 
There are still so many features left unappreciated such as: 
DC Fast Charge up to 3501 kW (100 miles recovery in 10 minutes) 

White exterior 

Illuminated grille

22-inch wheels, 35-inch tires

MultiPro tailgate 

'Infinity Roof'- Transparent Sky Panels

Adaptive Air Suspension with six inches of travel 

'Ultravision function (18 different self-washing cameras) 

Exclusive Interior Badge 

13.4-inch touchscreen system 

12.3-inch screen digital instrument cluster 

14-speaker Bose audio system 

Super Cruise hands-free driving 

Extreme Off-Road package 
GMC's Launch Control was massive. So even though the Hummer EV Edition 1 premiered in the Fall of 2021, the EV 3X is not too far behind. If you're curious, here's the estimated schedule and trim split up:  
Trim
Release Date 
MSRP 

Hummer EV Edition 1 

Fall 2021

$112,595

(Sold Out)

 

Hummer EV 3X

Fall 2022

$99,995

Hummer EV 2X 

Spring 2023

$89,995

Hummer EV2

Spring 2024

$79,995
*Prices do not reflect destination fee
Suppose these prices appear a little too steep. Thank goodness you didn't buy the Hummer EV Edition 1 VIN001 sold for $2.5 million during an auction for charity. But we want to hear from you, which Hummer appeals to you? 
Our team at Southern Buick GMC Greenbrier welcomes you to find the vehicle you're looking for with the price tag to match. We offer a full selection of new selections or receive a fantastic deal on our pre-owned choices as well. No matter what you decide, our passionate finance team will get you settled into a finance or lease plan that works for you. 
If you're ever in need of quality maintenance or repairs, we have the best professional technicians within our Buick, GMC service department. So leave it to us, and we will tackle everything, whether it be an oil change, filter replacements, or drivetrain repairs. Schedule your appointment today. 
With hundreds of customers served in the Chesapeake area, Southern Buick GMC Greenbrier offers high-quality vehicles and services right at your fingertips. We look forward to hearing from you and exceeding your expectations. Feel free to contact our staff day or night with any questions.