Auto Trader Ranks 2021 Buick Envision in Top 10 Best Interiors Category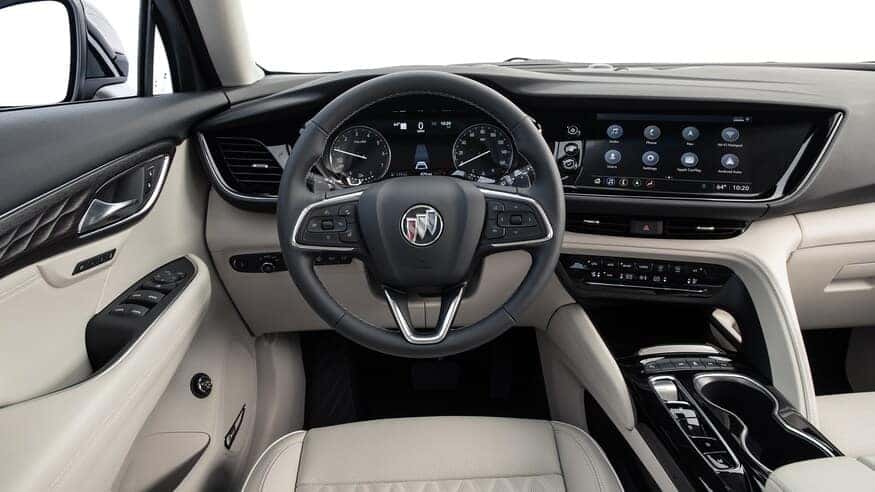 The 2021 Buick Envision has one of the best-looking interiors for the money, and at a price point of just under $50,000 it is a good purchase for the value. Very recently, AutoTrader ranked Buick Envision's interior as one of their top 10 picks. The Envision was engineered to be a quality compact SUV with a luxury design in authentic Buick style. For 2021, the redesigned interior is an immediate eye-grabber with luxury design traits that make it a worthy competitor against some of the more expensive alternatives from other brands.        
Its redesign for the 2021 model year has positioned the Buick Envision to punch above its weight, well into the territory of European luxury SUVs like Volvo and Land Rover that can be a little far-fetched for some buyers, but nevertheless, Buick's main leverage play in the compact SUV segment is to beat the competition on price point which it does very well. After all, a brand new vehicle with a high-quality interior does not necessarily need to be expensive. Buick has incorporated the appropriate amount of luxury accents in areas inside the cabin where they will be the most prominent while still emphasizing affordability.        
Auto Trader's Decision
Car buyers don't need to purchase an expensive vehicle to get a great quality interior, in today's auto industry, car manufacturers are constantly looking for ways to improve their interiors with quality materials at affordable price points. For Buick, it has positioned its 2021 Envision in the perfect sweet spot that is set to attract the attention of car buyers interested in a uniquely American luxury SUV that is sure to impress. AutoTrader's decision to include Buick's Envision in their top 10 list for best interiors for 2021 was because of the Envision's new high-quality interior and technology features. Most of the time car buyers think in order to get a great-looking interior, they will have to purchase a vehicle that has a higher price tag, but that is not necessarily the case, and Buick is a great example of affordable luxury.  
Overview of the Interior
Some of the most noticeable changes for the 2021 Buick Envision's interior include a 10.2-inch touchscreen display on the center dash coupled with a nine-speaker Bose audio system. There is also an active noise cancellation setting that makes the cabin serene and quiet, leather seats with a massage function, a leather-wrapped steering wheel, a heads-up display, including an in-vehicle ionizer with an air-quality indicator.
Should You Buy One?
One of the main benefits of purchasing a 2021 Buick Envision is the perfect balance of affordability and luxury packaged seamlessly into a compact SUV that is far from being bland and boring. A Buick Envision can make the perfect family vehicle for road trips and city driving, even for long-distance travel across the country, Buick has designed a cabin with plenty of technology and comfort features that make driving more convenient. For the full Buick experience, opting for the top Avenir trim will reward buyers with all the amazing in-vehicle features the Buick Envision has to offer. 
For more information on the new 2021 Buick Envision, contact us at Southern Buick GMC Greenbrier, we will be more than happy to give you a tour of the interior of your preferred Buick vehicle. You can also check our current SUV inventory for amazing deals and discounts, we look forward to your visit!
Image Source: Buick