The Buick Encore and Encore GX: A 2021 Compact SUV Comparison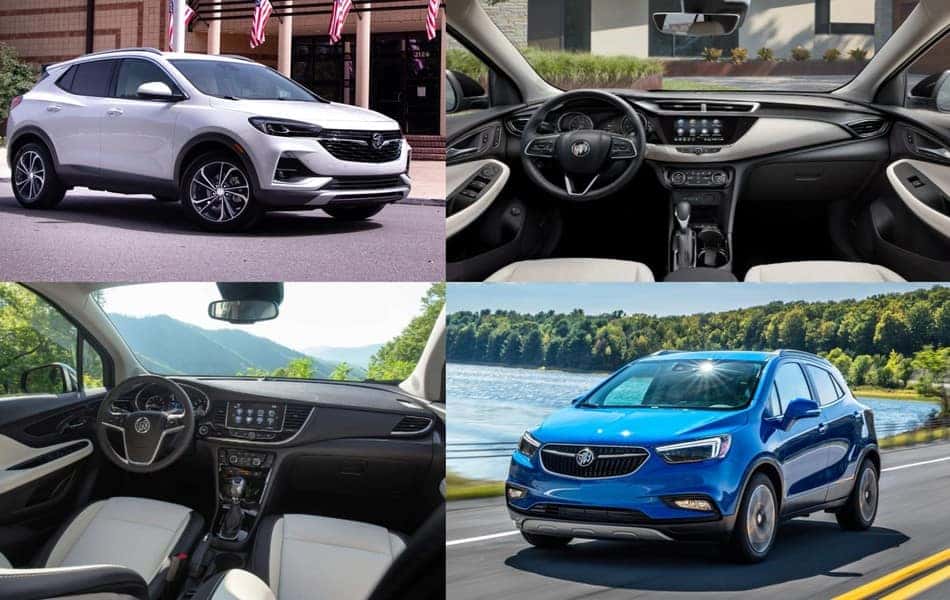 Both the Buick Encore and Encore GX are very similar vehicles, but each has unique features that make both of them stand out from one another. These two sub-compact SUVs are the light-weights in comparison to the rest of the Buick lineup. What they lack in size, they make up in affordability and fuel efficiency, which is a top-selling point for the Encore nameplate. Since its first introduction back in 2012, the Buick Encore underwent significant changes in an effort to adapt to consumer demands. Buick's innovative thinking product was to offer a sporty "GX" model that displayed more aggressive and prominent exterior styling cues in addition to a redesigned interior that provides a hint of entry-level luxury.    
2021 Buick Encore
The Buick Encore is a nimble and agile SUV that rides on General Motors' Gamma 2 platform, which is the same chassis found in the Chevy Trax and Tracker. The Encore features a 1.4 L Turbo 4-cylinder engine that puts out 155hp and 177 lb-ft of torque via a six-speed automatic transmission. With a respectable 0-60 acceleration time of 10.6 seconds on both FWD and AWD models, the Encore delivers ample power to get going on the road. 
2021 Buick Encore GX
The GX model of the Encore differs from the standard Encore in its trim level offerings. The GX offers the Select and Essence trim levels, whereas the "non-GX" Encore only has two trims: the Base and Preferred. Another distinction between the two is that the GX model rides on General Motor's VSS-F platform, which is the same frame found on the Chevy Trailblazer. The GX also offers two engine options: an ECOTEC 1.2 L Turbo (137 hp/162 lb-ft of torque) and an ECOTEC 1.3 L Turbo (155hp/174 lb-ft of torque).    
The other key difference is that the regular Encore has a seven-inch infotainment screen, while the GX has a slightly larger eight-inch screen that works wirelessly with Apple CarPlay and Android Auto. The GX is also available with navigation in the higher trim models and a Bose sound system in the top Essence trim.
What Both Models Have in Common
Both versions of the Encore deliver a smooth and controlled ride quality that instills confidence on the road along with their accurate handling characteristics. Both also offer a light steering feel with a tight turning radius that benefits drivers in tight parking spaces and hard-to-maneuver areas. Both models can seat five passengers comfortably with admirable leg and headroom.
The Key Features
There is also a difference in the level of standard safety equipment offered. The Encore GX comes equipped with a low-speed forward collision system with pedestrian detection, automatic emergency braking, lane-departure warning, and Teen Driver ( a system that allows the owner to monitor a teen's driving habits). The regular Encore offers some but not all of these features but still displays an incredible value for its net price of $21,695 (plus destination fee). 
Buying a 2021 Buick Encore
Buick has its eye set on dominating the subcompact SUV segment and turning the Buick Encore into one of the most successful entry-level vehicles in the market. The Encore has improved throughout three generations of production and is still determined to remain in the lead as one of the most popular subcompact SUV models.
Finance or Lease a new 2021 Buick Encore or Encore GX with us at Southern Buick GMC Greenbrier and experience the significant savings and discounts we are currently offering! For more information, fill out our contact form, and our staff will answer any questions you may have on a particular vehicle that interests you. To schedule a test drive or an appointment, give us a call or visit us. We look forward to seeing you!
Image Source: Buick