GMC Hummer EV Goes Off-Roading in Moab, Utah for Vehicle Testing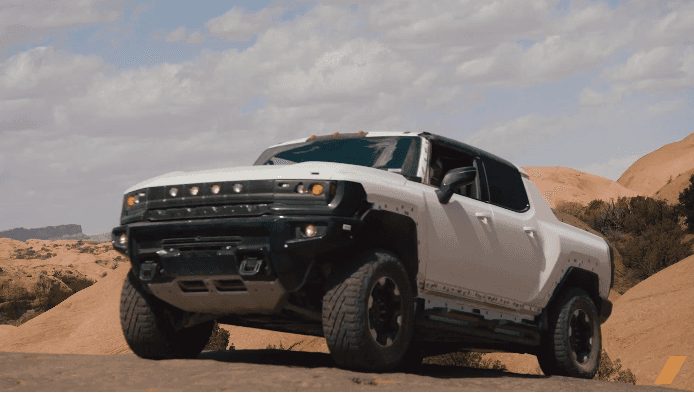 The Hummer EV Truck Prototype recently got filmed performing its off-road test trials in the beautiful backcountry of Moab, Utah. The video can be seen here provided by a YouTube Channel Fan Page that showcases several other videos of the electric truck. There are several good reasons to be excited about GMC's new Hummer EV, the truck version is expected to have 1,000hp according to GMC which is more than enough power to traverse over the most challenging terrain types. The electric truck is also able to safely climb at steep inclines due to its 35-inch tires that are very similar to the ones on the Ford F-150 Raptor and the Ram 1500 TRX. GMC also claims that the Hummer EV Truck is able to accelerate from 0 to 60 (mph) in about 3 seconds which is really impressive given its bulky frame and a vehicle weight of a little over 9,000lbs.      
Air Suspension and Equipment
Adaptive air suspension hardware is one of the main components that give the Hummer EV truck the competitive edge it needs to excel in the off-road vehicle segment. Prospective buyers also have the option to select an Extreme Off-Road Package that includes durable, off-road rated 35-inch all-terrain tires, extra underbody protection, under-mounted cameras for improved visibility while maneuvering, and reinforced axles with heavy-duty components.    
Hummer's Signature Crab Walk
Four-wheel steering is now possible with the Hummer EV's "Crab Walk" ability that enables it to maneuver diagonally just like a crab. This helps with maneuverability in off-road environments and in tight parking spaces. With just a single touch on the vehicle's infotainment system, all four wheels turn at the same angle by up to 10 degrees. This is a unique feature that is not found in any other GMC product and consumers can take full advantage of its game-changing capability.  
Range and Battery Life
Every new Hummer EV will have GMC's Ultium battery technology, which makes it considerably more eco-friendly than the old gas-guzzling Hummer models. The EV2 model features a standard 400-volt electrical system, but an 800-volt system is also offered for consumers that want more power. The Hummer EV also carries a 200.0-kWh battery pack, enabling it to have a driving range of 300 miles along with fast charging speeds of up to 300 kW.
Driver Assistance Features
The Hummer EV will come equipped with an improved version of GMC's Super Cruise that will allow for hands-free driving on the road. It will also have a whole host of driver-assistance technology such as forward-collision warning, automatic emergency braking,  lane-departure warning, lane-keep assist, and adaptive cruise control.
Reserving Your Hummer EV
For more information on the new Hummer EV, you can visit the Official GMC Website to reserve your vehicle and select Southern Buick GMC Greenbrier as your home dealership for delivery. You can also fill out our contact form for any questions you may have regarding the ordering process or any other GMC or Buick model that interests you. Visit us or give us a call!
Image Source: GMC